Calor Gas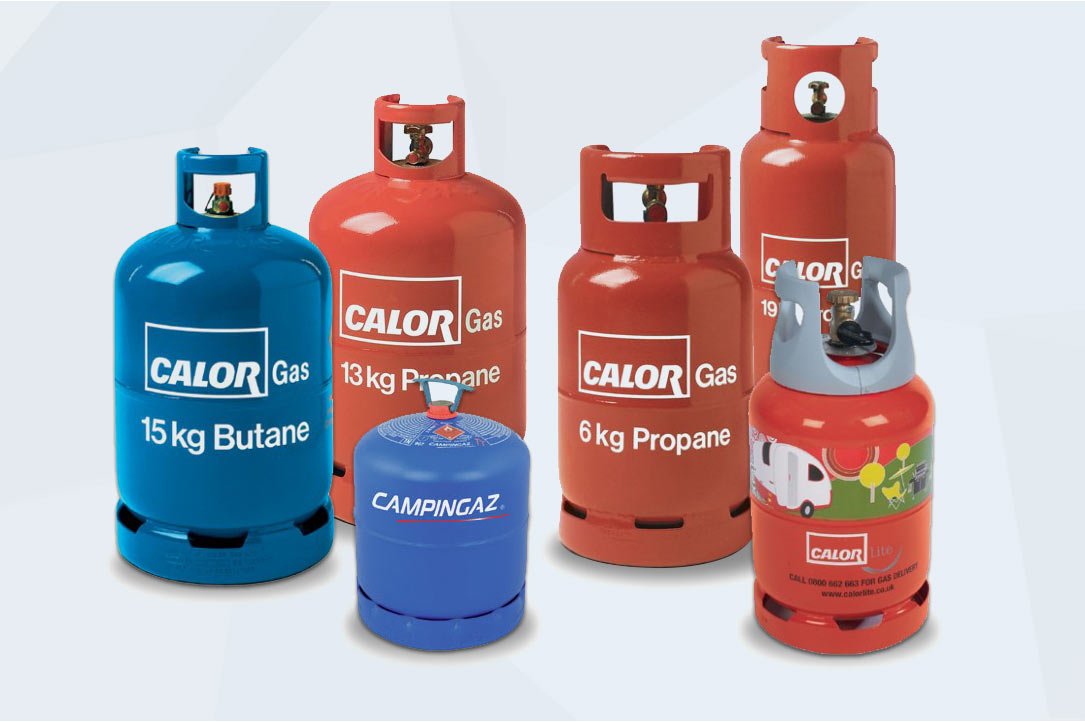 Patio Gas Bottle
Both 5kg & 13kg Patio gas bottles come with the innovative gas trac® indicator. 
The ideal solution to fuel patio heaters and BBQs during the long summer evenings.
Propane Gas
We have variety of different sized bottles available:
3.9kg Propane gas bottle is for industrial uses so can be used to fuel a range of DIY tools, including small industrial burners and blowtorches.

6kg Propane gas bottle is a great solution for fuelling heating and cooking in your caravan, all year round.

6kg CalorLite® is for the caravan market for a more compact and portable solution for transporting gas bottles and reducing the noseweight of your caravan. The CalorLite® weighs 50% less than our standard 6kg Propane gas bottle. 

13kg Propane gas bottle is a perfect solution for heating and cooking for touring caravans.

19kg Propane gas bottles are the solution for heating and cooking for both touring and static caravans. Perfect for heating / cooking on boats and catering vehicles.
Butane Gas
We stock three different types of Butane Gas:
4.5kg Butane gas bottle is ideal for camping and caravanning during the summer months and can be used with a single burner cooking appliance.

7kg Butane gas bottle is the ideal solution for cooking and heating in your caravan during the summer months and can also be used for smaller portable heaters.

15kg Butane gas bottle is the perfect choice to fuel your portable gas heater during the colder months

.
We stock 904 and 907 Camping Gaz
Campingaz® is one of the European pioneers when it comes to portable energy solutions. To enable people to enjoy living and cooking outdoors since 1949.
Each cylinder is maintained with each refill.  The main concern is product safety. They are 100% Butane in constantly high quality and can be exchanged all over Europe and beyond.
100% made and quality controlled in Europe
Intended for regular use or for extended operating time. This cylinder is equipped with a safety valve and can be unscrewed from the appliance when not empty.
With Campingaz® you never run out of gas!
Please call us on 01274 611867 and we will be happy to assist should you require any further information.