Service and Repairs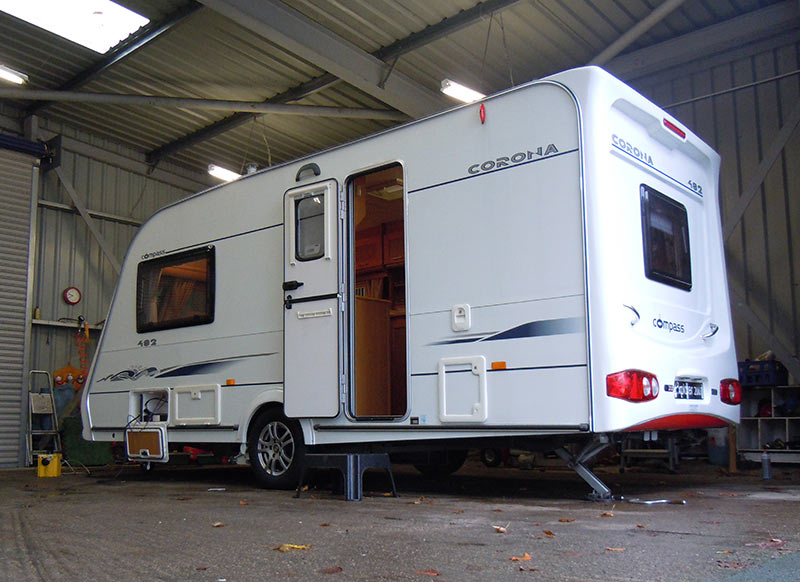 We have a team of specialist technicians to carry out servicing and inspections on all caravans sold before collection.
All work is carried out to the highest standard guaranteeing a very high level of quality and service.
Our Caravan Specialist has over 30 years experience and attention to detail is second to none. So any type of servicing or repair necessary will provide you full satisfaction and peace of mind.
It is recommended that touring caravans are serviced once a year. This can be carried out at Albion Caravans by ACOPS Gas trained staff.
Regular servicing of your caravan will pay off in the long run with greater reliability and improved resale value. But there are safety and legal issues too. All vehicles or trailers are required by law to be in such a condition as not to cause danger to anyone.
Some items you can easily check for yourself. However items such as the braking system, electrical and gas items inside the habitation area are best left to experts if you are not to risk your safety or that of others.
The first half of our full service begins with –
A visual and manual check overall.
Lubrication of all moving parts connected to the chassis including corner steadies, jockey wheel, hitch, handbrake etc.
We then move onto the wheels, in particular the hubs, bearings and tyres.
We finish by checking road lights and gas hose / regulator.
The second half concentrates on the living area –
Beginning with a gas leak test before checking all gas / water / electric systems and appliances.
Locks.
Plus other moving parts like roof lights are also included.
Finally we provide the customer with a full water ingress report of the caravan included in the price of the service.
Should we find any issues that may need attention, we will always obtain the customer's approval before commencing with any repairs required.
If you would like to book your caravan in for a service or would like a quote for any other repair, please contact us. We are open seven days a week with convenient times to drop off and collect your caravan from our premises.